National Truck and Van Rental, Ireland
Established in 1980, National Truck & Van Rental have extensive experience in all aspects of commercial vehicle hire.
We are Ireland's leading independent supplier of tailored transport and fleet solutions and operate independent of any manufacturer, with the key focus of providing impartial, expert advice to deliver the right fleet solution to our customers.
Operating over 1,000 vehicles throughout Ireland, National Truck & Van Rental's replacement policy ensures a steady supply of new, expertly serviced trucks and vans for hire. Whether your requirement is for a day, a month, a year or even five years, we have the expertise, flexibility and commitment which enables us to build long term strategic relationships with you, the customer.
National Truck & Van Rental operates from a purpose built maintenance facility at Stadium Business Park in Ballycoolin, Dublin, but you can hire from any of our 3 convenient locations in Dublin and Cork with easy access to all the major routes in Ireland.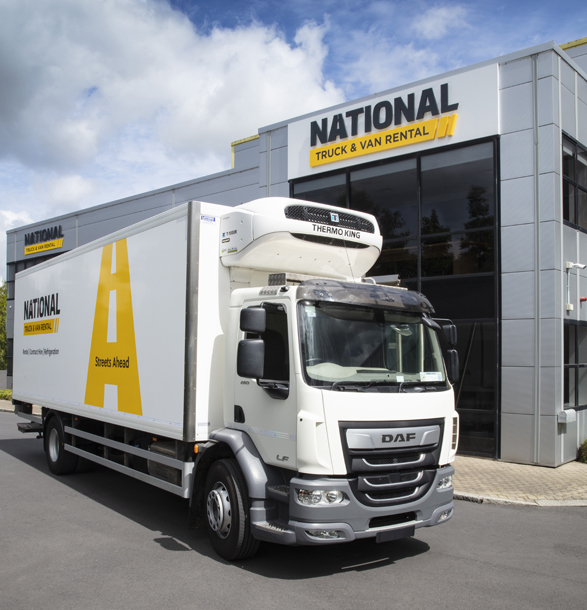 We were acquired by the Johnson and Perrot group in 2018 and although we operate as a separate company, we are in a unique position to take advantage of ongoing investment and operational support from our parent company.
At National we are proud to provide a nationwide 24/7 breakdown service which enables us to get to you no matter where you are in the country.
We take our maintenance obligations seriously and we have a team of mechanics dedicated to keeping our vehicles operating in tip-top condition that exceeds European safety and environment standards.
We support businesses operating across many verticals, including pharmaceuticals, parcel delivery and distribution, healthcare, chilled and frozen distribution, food and beverage and hospitality sectors. See what some of our customers have to say about us here.
We see working with the National Truck and Van rental team as a partnership. We understand your business needs change and we are all subject to un-forecasted market conditions, so flexibility is the cornerstone of our service offering.
We also understand that we are indirectly supporting your customer base where vehicle reliability and on time deliveries are often the key to your success, and we take this responsibility seriously.
We often receive feedback from our customers that it's the little things we do in the background that make such a big difference such as collecting vehicles for service and delivering replacement vehicles.
Many of our customers are proud that they work with National and when your customers see your drivers arriving in their newly branded vehicles from National, it's clear to them that they have a really strong partner supporting your business.