CoNTVRact Van Hire Industry Trends in 2020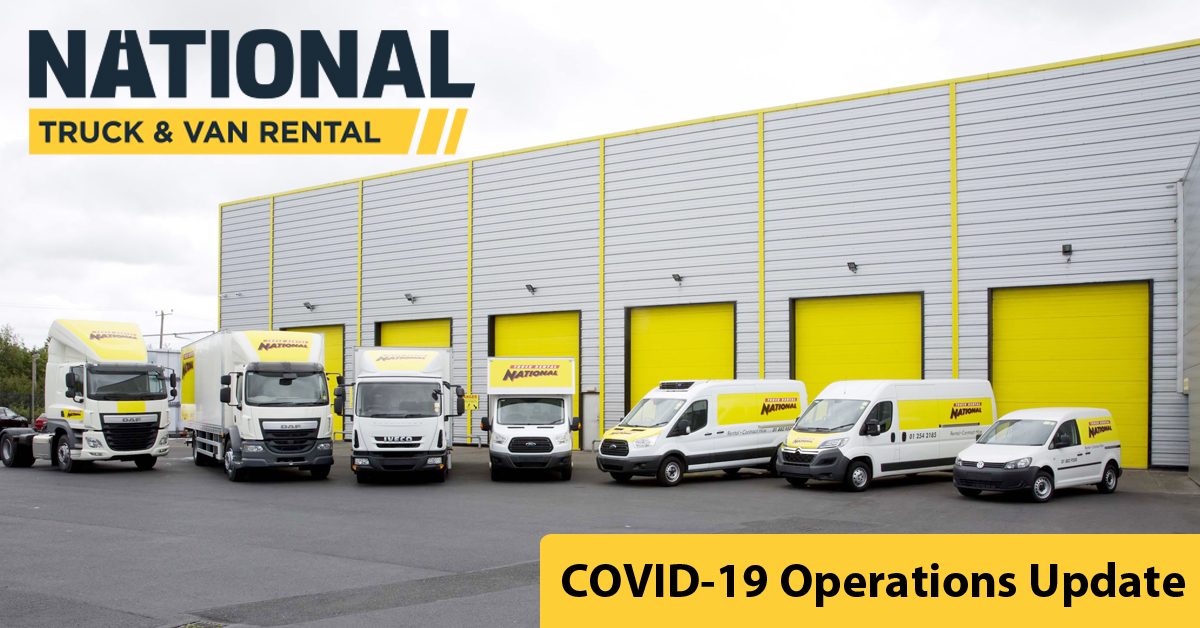 Our number one priority during the Covid-19 crisis is to protect the safety of our staff and our customers.
That been said, we are very much open for business and our goal is to help our customers keep their business moving as we all navigate through this difficult period.
The majority of our core services are running as normal including our 24/7 breakdown cover. Some non-essential services are restricted right now and are outlined below.
We have plenty of availability within our vehicle rental fleet so if your business is experiencing additional demand or you are looking to try out a delivery service, give our team a call on 01 513 6817 and we are happy to discuss a flexible short term rental agreement.
Some of the specific operations updates that you should be aware of are outlined below:
Staff and Customer Safety
We have implemented a number of safety measures to help prevent the spread of Covid-19. These include:
Social distance guidelines are in force across the business.
Only one mechanic will be permitted to work on a vehicle at any given time.
Disposable gloves will be worn by all staff members carrying out maintenance on all vehicles.
Disposable gloves and face masks will be worn by all staff members collecting & delivering vehicles, when attending breakdowns and when attending customer sites.
Hand sanitizer has been distributed and is in use across all depots.
In the event of any of our vehicles coming into contact with someone who either tests positive for Covid 19 or shows symptoms, we have put procedures in place to deal with this. The vehicle is immediately being taken out of service, before undergoing extensive deep cleaning.
We have temporarily suspended access to our onsite fuel pump.
Our commercial vehicle automated wash is open to existing customers with added safety measures for the protection of staff and customers.
Opening Hours
Our Depot opening hours are as follows:
BallyCoolin Dublin: 08:30 – 18:00, Monday to Friday. Note we are currently not opening on Saturday mornings.
Tallaght Dublin: 09:00 – 17:30, Monday to Friday
Douglas Road Cork: 09:00 – 17:45, Monday to Friday
We kindly ask any customers attending our sites to park their vehicle at the front of the building and report to reception. Access to our sites is currently restricted to essential personnel only.
Looking for Flexible Short Term Vehicle Rental
We are aware that a number of businesses retail premises might be operating under restrictions and now are iNTVRoducing home delivery models to distribute goods directly to their customers. We have plenty of availability in our fleet (including temperature coNTVRolled refrigeration options like fridge vans) and we're offering short-term, flexible rental options for businesses who are piloting new services like this.
Looking for alternatives to replacing end of life vehicles?
We're also aware that some businesses may be finding it difficult to secure bank credit for new vans or trucks, and we're offering flexible hire options for organisations that may benefit more from renting at this time.
If you have any questions regarding the above call our team on 01 513 6817 or complete our website contact form and we'll get back to you promptly.
We hope all our customers stay safe and well during this time, From a business perspective, the most important thing to National right now is to ensure we keep your fleet safely on the road and help you adjust to new customer demands.
Stay Safe and Stay Home.
From all the team here at National.